Hey there, fellow dirt enthusiasts! I'm Sandeep, the soft-washing extraordinaire who's here to blast away your problems (and your grime) with the power of water.
I was born with a passion for cleanliness and a love for all things that go whoosh. As a toddler, I would spend hours spraying anything and everything I could get my tiny hands on, from the family cat to the kitchen walls. And now, I've honed my skills to become the ultimate soft-washing machine.
With my trusty soft-washing truck named T-800 by my side, I can tackle any surface, no matter how grimy or greasy. I've washed driveways that were so dirty they could have been used as a landing strip for a UFO. I've cleaned patios that were so covered in moss they looked like a miniature rainforest. And I've even removed graffiti from walls that would make Banksy proud.
But don't just take my word for it! Here's what some of my satisfied customers have to say:
"Sandeep at West Virginia SoftWash has skills so good, I think he might be a superhero." – Stan Lee (may he rest in peace)
"I didn't know my driveway was actually white until West Virginia SoftWash washed it!" – Mrs. Johnson
"I was going to use my pressure washer to clean my deck, but after seeing West Virginia SoftWash in action, I'm not sure it's even worth trying." – That one neighbor who always tries to one-up everyone
"Is the water on the truck half full or half empty?" – My staff
So, if you've got a dirty job that needs to be done, call on West Virginia SoftWash and have us blast away your problems (and your dirt) with the power of H2O. And if you're lucky, I might even let you hold the nozzle."
We have the softwashing training and experience to transform your home or business.
Like most people, one day we took a look around at our home and those of our neighbors and realized that most looked a little worse for wear. We thought about purchasing a pressure washer, but quickly learned that wouldn't be safe for all the surfaces that we wanted to look better. With a bit of research, we came across the SoftWash system and fell in love with it. The problem was that there wasn't anyone in the Martinsburg, West Virginia area offering softwashing. The idea took root about investing in the system not just for ourselves, but also to help our community, and our company, West Virginia SoftWash, was born.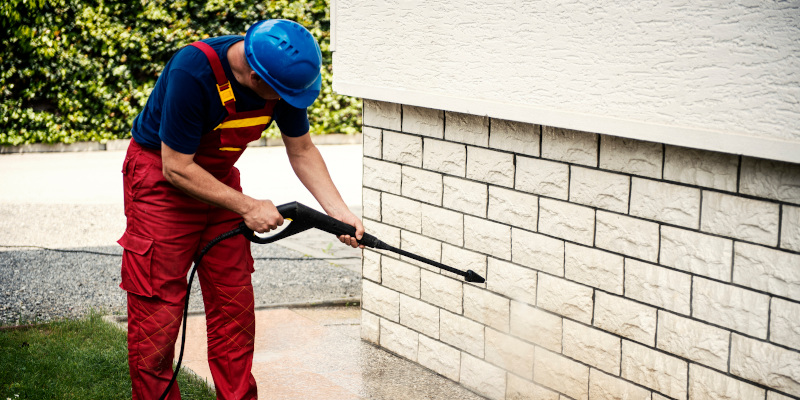 We didn't just jump in and begin offering softwashing services, however. We took the time to get Top Gun SoftWash trained in the correct technique and products to ensure that we performed each service properly and safely. Then, we practiced and practiced! We certainly didn't want our customers to be our test subjects, so we softwashed our own homes and those of a few volunteers repeatedly until we were confident that we had the process down pat. From there we obtained the necessary licensing and insurance so our customers would be fully protected.
It wasn't a short process to get here, but we are happy we did because we love seeing the happy faces of our residential and commercial customers when they see the amazing results of our softwashing services. If you would like to see your home or business transformed or have questions about our services, don't hesitate to reach out to us.