Let our professional team wash your deck in a gentle, effective way to protect your wooden surfaces.
When you think about deck washing, what do you think of? Most people imagine pressure washing with high-pressure water, but this is not the best idea for your wooden deck surfaces. At West Virginia SoftWash, we use a gentle softwashing method for deck washing to preserve the integrity of your wooden deck surfaces.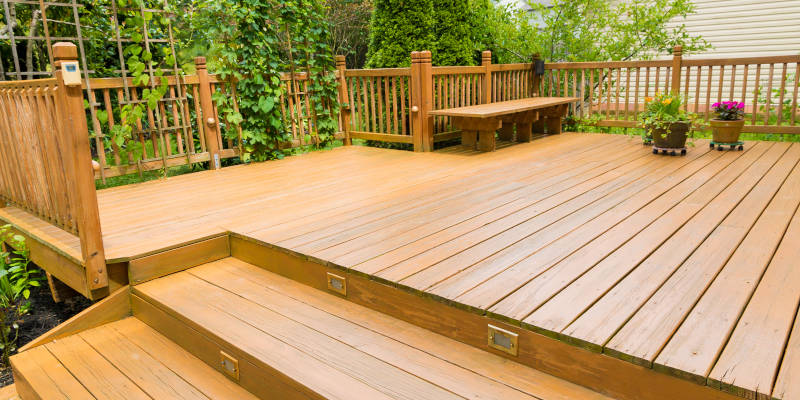 Traditional pressure washing can be harmful to wooden deck surfaces, as the high-pressure water can cause splintering, can damage the structure of the wood, making it vulnerable to premature rot, and can chip the wood. All of these can contribute to a need for premature replacement of your deck. Softwashing, however, utilizes a biodegradable cleaning solution and low-pressure water to emulsify dirt, grime, algae, mold, and mildew and leave the surface clean and sanitized, rather than just rinsing the dirt away like a pressure washer. Softwashing will leave your deck clean and beautiful and will improve the appearance, all while removing potentially slick substances that can cause a fall. Deck washing will also add to the curb appeal of your home and can increase your home's value.
If you are looking for the best deck washing services for your Bunker Hill, West Virginia home, look no further! Our professional team is Top Gun SoftWash Certified and offers superior quality and superior results. We strive to meet your needs in a cost-effective way, and we will get the job done in a timely manner, all while offering fair pricing. We want to help you take pride in your home and will do our best to exceed your expectations. Give us a call today to see how we can bring our deck washing services to you!
---
At West Virginia SoftWash, we offer deck washing services in Martinsburg, Charles Town, Falling Waters, Inwood, Bunker Hill, Ridgeway, Middleway, and Hedgesville, West Virginia.